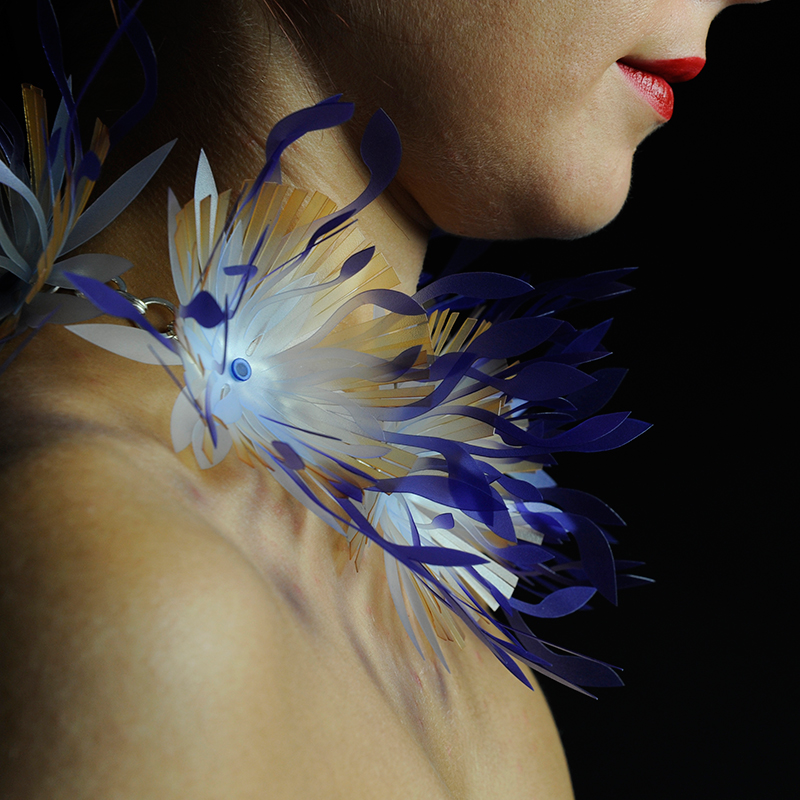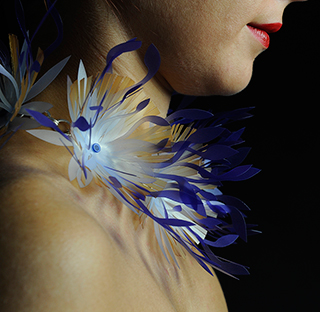 Necklace
Polypropylene and Silver
Dimensions 260mm x 280mm
Image Tracy McEachran
about Sarah.
Sarah's work consists of limited-edition and one-off pieces in precious metal, often combined with other materials such as wood, stone, acrylic or polypropylene. She is influenced by ancient forms which may or may not have had a function, such as tools, ritualistic artefacts and sculpture. Sarah is particularly fascinated with traditional Celtic penannular and circle brooch designs, which are often reversible, with the functional parts of the brooch an integral part of the form.
Sarah enjoys exploring the possibilities of materials. Through her most recent work in polypropylene, she has been exploring the effect of layering, dyeing, cutting and heat forming to make necklaces and earrings evoking sea plants and vividly-coloured marine creatures.
Sarah has been making jewellery since graduating from Brighton Polytechnic in 1981 and exhibiting with The Designer Jewellers Group since 1984. She also belongs to the Association for Contemporary Jewellery (ACJ) and exhibits regularly with the ACJ Wessex regional group. She combines making pieces for sale and to commission with teaching short courses at West Dean College, and at Making Space.
Prices start at £50 please email Sarah for more details
www.designerjewellersgroup.co.uk
www.westdean.org
www.makingspace.org
Click here to see Sarah talking about her work and inspirations